Reflective QoS is a clever new concept introduced in 5G SA networks.
The concept is rather simple, apply QoS in the downlink, and let the UE reply using the QoS in the uplink.
The UE looks at the QoS applied on the downlink traffic, and applies the same to the uplink traffic.
Let's take another example, if a user starts playing an online game, and the traffic to the user (Downlink) has certain QoS parameters set, if Reflective QoS is enabled, the UE builds rules based on the incoming traffic based on the source IP / port / protocol of the traffic received, and the QoS used on the downlink, and applies the same on the uplink.
But actually getting Reflective QoS enabled requires a few more steps…
Reflective QoS is enabled on a per-packet basis, and is indicated by the UPF setting the Reflective QoS Indication (RQI) bit in the encapsulation header next to the QFI (This is set in the GTP header, as an extension header, used on the N3 and N9 reference points).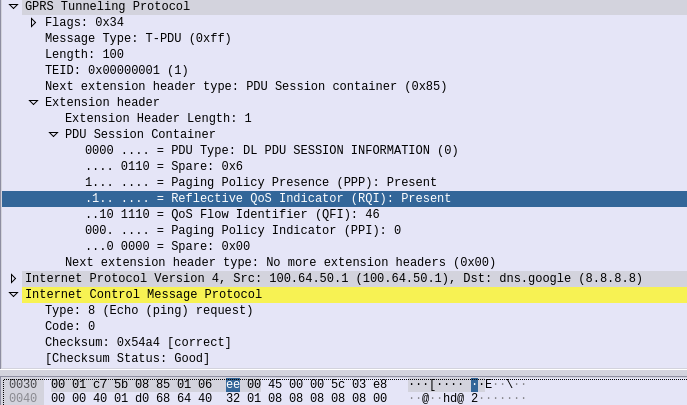 But before this is honored, a few other parameters have to be setup.
A Reflective QoS Timer (RQ Timer) has to be set, this can be done during the PDU Session Establishment, PDU Session Modification procedure, or set to a default value.
SMF has to set Reflective QoS Attribute (RQA) on the QoS profile for this traffic on the N2 reference point towards gNodeB
SMF must instruct UPF to use uplink reflective QoS by generating a new UL PDR for this SDF via the N4 reference point
When these requirements have been met, the traffic from the UPF to the gNodeB (N3 reference point) has the Reflective QoS Indication (RQI) bit in the encapsulation header, which is encapsulated and signaled down to the UE, which builds a rule based on the received IP source / port / protocol, and sends responses using the same QoS attributes.